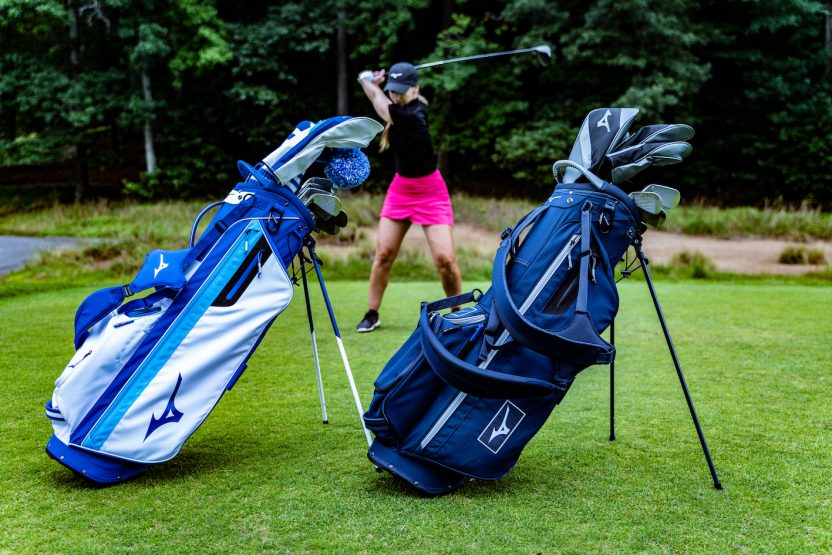 Mizuno is launching a comprehensive new range of BR-D Series golf bags to join its line-up this autumn. 
BR-D2 Carry Bag
Ideal for practice rounds or weekends away, the BR-D2 accommodates 14 clubs via 4-way top cuff with two full-length dividers, and it features 9 pockets to organise essentials. The new detachable Mod Pouch gives a little more storage when it's needed and allows a further drop in weight when it's not. The dual shoulder strap has four adjustment points for maximum comfort while the stored rainhood, umbrella holder and water-resistant underbelly combine to help keep kit dry. There's an insulated drinks pocket plus easy grab handles for increased maneuverability.
Colours: Black/Black, Heather Grey/Black, Navy/Black RRP: £135

BR-D3 Stand Bag
For those who prefer walking the course, the BR-D3 makes every step a little easier as it weighs in at just 2kg. Stripped back to 8 critical pockets and compartments with a brand new ultra-comfortable shoulder strap, the bag features a full-length apparel pocket and insulated drinks pouch. With 4-way top cuff and two full length dividers, the BR-D3 has ample space for clubs as well as good storage for ancillary equipment.
There's a fleece-lined valuables pocket and removable ball pocket (which can be customised). The hip pad provides extra comfort as well as storage for a rainhood while there are clips, pads and holders for towel, glove, marker pen and umbrella.
Colours: Black/Black, Navy/Grey, Stormy Blue/Black, White/Black, Staff  RRP: £180

BR-DX Hybrid Stand Bag
This new hybrid stand bag offers the ultimate in versatility. The BR-DX features 14 pockets for anything a golfer could need when riding a cart – including a large cooler pocket for those extra hot days. It also has large profile stand legs, molded bottom cuff with rubber feet for added stability, and a quick release detachable dual shoulder strap for walking days.
The 14-way top cuff with full-length dividers offers maximum protection for clubs and the Cart Strap channel allows for secure attachment and increased accessibility. Padded grab handles facilitate easy maneuvering. There's a full-length apparel pocket, a fleece-lined valuables pocket with waterproof zipper, a magnetic closure pocket with fleece lining, a removable, customizable ball pocket and quick-access mesh pockets.
Colours: Black/Black, Camo/Black  RRP: £235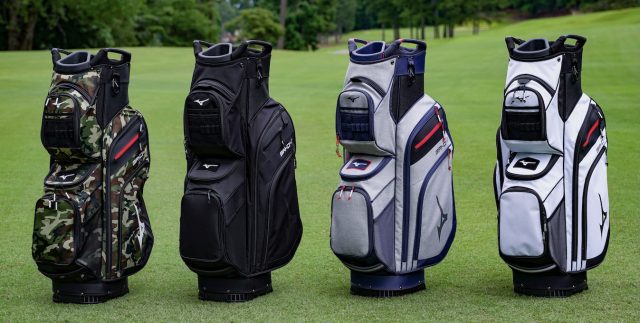 BR-D4 Cart Bag
This is Mizuno's maximum storage cart/trolley bag, with a staggering 20 pockets and compartments.  An all-new 'mission control' organiser panel makes it easy to store anything you need for quick access – from range finders to scorecards and yardage books to divot tools, all in one centralized location, as do the quick access mesh pockets. The extra-large cooler pocket means you'll never need to go hungry or thirsty out on course.
There's a 14-way top cuff with an integrated large putter well, and full-length dividers for the ultimate in club organization. The single shoulder strap and grab handles greatly help when moving the bag from car to cart.
A selection of pockets provide plenty of storage – from full-length apparel pockets to fleece lined valuables pockets with waterproof zippers. The ball pocket is removable and can be customized. A clever addition is the notch on the bottom cuff that gives extra stability when the bag is used on a push cart.
Colours: Black/Black, Camo/Black, Heather Grey/Navy, White/Black RRP: £235
In addition, new colourways have been added to the BR-DRI Stand Bag and BR-DRI Cart Bags. Both are waterproof and feature a seamless construction to protect possessions in the worst golfing weather with a 1-year waterproof guarantee.